About Us
AIDS Resource is a non-profit organization that provides free HIV prevention programs, free HIV and STI testing, and assistance to those infected with, or affected by, HIV or AIDS. Founded in 1988 by community members concerned about the plight of people dying from AIDS in Lycoming County, AIDS Resource began with the mission of providing culturally-sensitive support to people infected with and affected by HIV or AIDS and to prevent further infection through education and outreach programs. As more effective treatments have dramatically increased life expectancy of those infected with HIV, our agency's mission has expanded to include connecting clients with resources they need to live with HIV or AIDS, as well as providing prevention, education and testing to at-risk populations. Our efforts expanded from Lycoming County into Snyder, Union, Clinton, Centre, and Potter Counties. In August 2018, our efforts expanded again and include our newest service areas: Elk, Cameron, Clearfield and McKean Counties.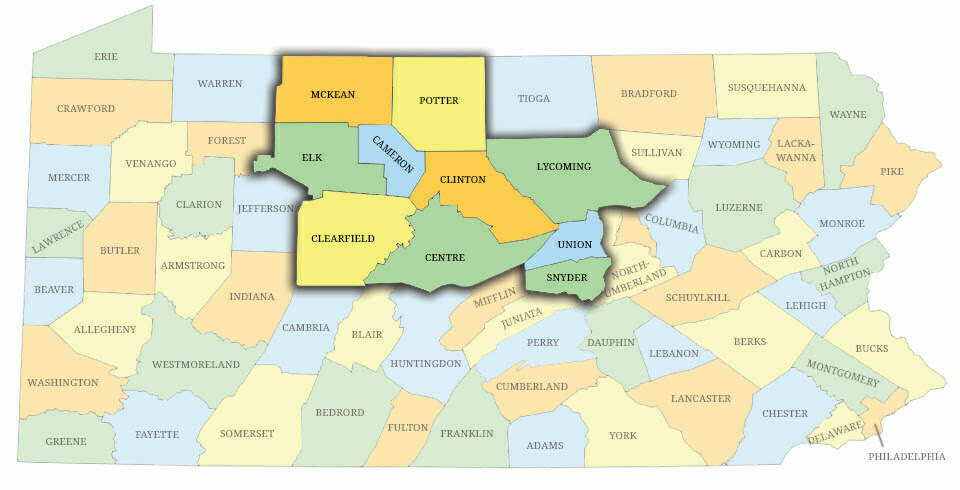 Raise the Region!
AIDS Resource (AR) will be participating in Raise the Region 2019. This is an online event to help community members in area counties support non-profit organizations' fundraising efforts. First Community Foundation Partnership, in partnership with Blaise Alexander, will be launching the 30-hour fundraising event on Wednesday, March 13, at 6:00pm through Thursday, March 14, at 11:59pm. All donations will be tax-deductible, and will enable our agency to continue providing life-saving services for clients living with HIV and AIDS, as well as offering free educational programs and testing for all community members.
How does it work?
Visit RaisetheRegion.org anytime during the 30-hour period, select AIDS Resource, and make a secure, online donation to our cause. You can check out our progress on the Leaderboard. Please help us by sharing and spreading the word about donating to AR and follow us on
Facebook for updates.
How will your gift be used?
Your donation will be used for the following services and programs:
Financial Assistance for Utility Bills and Housing
To Pay Health Insurance Premiums and Co-Pays
Food, Hygiene Products
Mental-Health Counseling
Transportation to Medical & Social-Service Appointments
Eye Care & Dental Assistance
HIV 101 Programs for the Community
Condoms
PrEP Clinic
HIV & STI Testing
How appreciative are we?
Words cannot express our gratitude to you for donating to AIDS Resource. *THANK YOU* for making an impact upon the health and well-being of our community members, and *THANK YOU* for touching our hearts through your kindness and generosity.
WE **RAISE** OUR HATS TO YOU!
Testing
Free, confidential testing for HIV with a quick finger-stick.  Results in less than 30 minutes.
Prevention
Free condoms and prevention programs for the community.
Education
Educational and HIV 101 programs for schools and community groups.
Connect to Care
Free resources to help those living with HIV or AIDS live a more healthy life, including connecting clients to medical care, counseling, support groups, and other social services.
AIDS Resource relies heavily on donations to help us continue our mission. AIDS Resource is a non-profit 501(c)(3) organization and donations are tax-exempt to the extent provided by law. During fiscal year 2009-2010 (the most recent year for which this data is available), 98.1% of AIDS Resource's expenses went directly to support its programs. (65% is the Wise Giving Alliance's Standard for Non-Profit Responsibility; more than 85% is generally considered extraordinary performance) so you can give confidently to AR, knowing that your donation is being put to best possible use. Donations can made in the form of cash, checks, planned or deferred gifts or in-kind gifts. Please make your check payable to: AIDS Resource and send to 500 W Third St, Williamsport PA 17701. You can also donate securely online.
They're not just some agency that "does something." It's that and so much more. They cultivate life-long bonds. The staff genuinely care.
AIDS Resource Client
This program has been my lifeline. I really get a lot from talking with Theresa. She is there with me through good and bad times.
AIDS Resource Client
Erik has been ABOVE outstanding in service. I know I would not have lived this long without him.
AIDS Resource Client
I have been a client of AIDS Resource in Williamsport for over five years. AIDS Resource has provided me with a second family.
AIDS Resource Client
General Inquiries – info@aidsresource.com
Kirsten Burkhart, Executive Director – kirsten@aidsresource.com
Amy Harada, Assistant Director – aidsr@aidsresource.com
Liz Fink, Office Manager – lizfink@aidsresource.com
Lu Ann Catherine, Bookkeeper – luann@aidsresource.com
Robin Dadzie, Senior Case Manager – robin@aidsresource.com
Erik Fetter, Case Manager/Testing Specialist – erik@aidsresource.com
Jenn Haynal, Case Manager & Community Outreach/Testing Specialist – jenn@aidsresource.com
Theresa Hrzic-Colimon, Case Manager/Connect-to-Care Coordinator/Testing Specialist – theresa@aidsresource.com
Michael Moran, Case Manager Assistant – mike@aidsresource.com
Jamie Plocinski, Counselor – jamie@aidsresource.com
Amanda Tyler, Case Manager/Testing Specialist – amanda@aidsresource.com
Wes Chicko, State College Practice/Outreach Manager – wes@aidsresource.com 
Lydia Hall, Case Management Assistant & Outreach Specialist – lydia@aidsresource.com
Sigfried Aragona, RN, Clinical Case Manager/Sexual Health Specialist – sigfried@aidsresource.com